As a business owner or leader, having a clear vision and answering all the big questions is vital, such as your business's core focus, values, marketing plan, and short- and long-term goals. However, are your processes efficient and scalable? Can they deliver your strategy? Is the technology in place adequate?
Having a clear vision and strategy is essential to ensure you are moving in the right direction, but you must align your processes with that strategy to achieve your business goals.
So why process optimisation?
1 – Building a solid team:
A business's success depends on its people; If your people are happy, your business will grow profitable. Therefore, optimisation is essential to eliminate unnecessary stressful or manual steps that can delay outcomes and frustrate employees.
2 – Improve accuracy:
Optimisation simplifies process documentation enabling standardisation across the business, which increases accountability and reduces errors.
3 – Improve efficiency and reduce costs:
You can work your resources smarter and not necessarily harder, reducing wastes and bottlenecks, improving productivity and reducing costs.
4 – Better business insights:
If your processes are optimised, you can clearly understand running all parts of your business; HR, sales, Marketing, Finance, Logistics and more. You can identify issues and address them quickly to keep on track towards your targets.
5 – Enabling adaptability:
With automation in place and streamlined processes, your business can adapt faster to market change by adopting new technologies or expanding and integrating systems.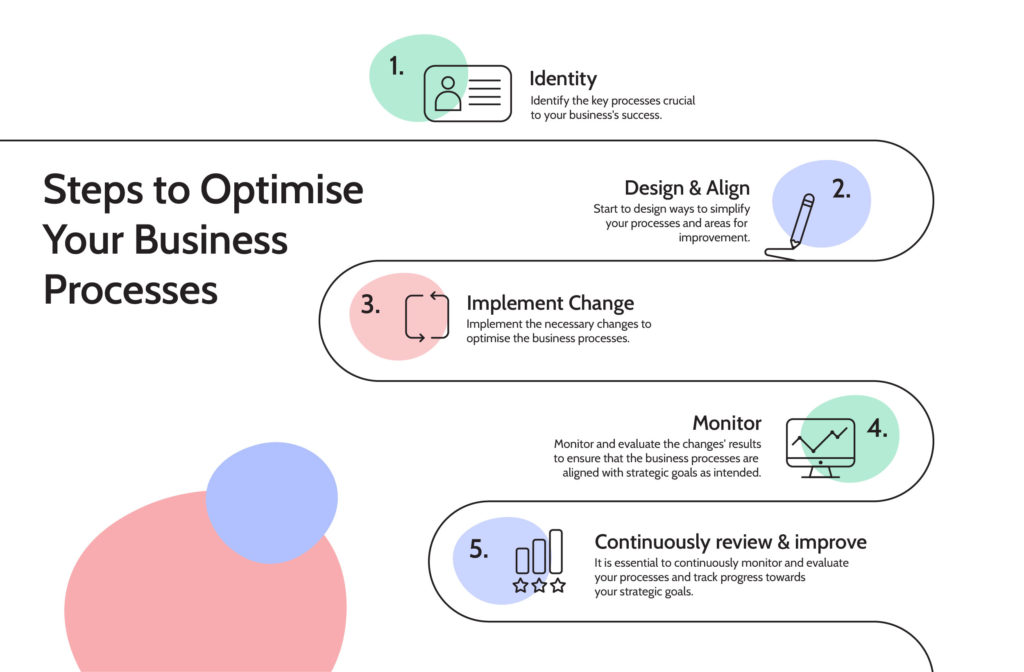 1 – Identity:
The first step is identifying the key processes crucial to your business's success. These could include functions related to sales, marketing, logistics, customer service, and more.
Then map out how they work to identify bottlenecks and inefficiencies; This may involve creating flowcharts, documentation or Process maps to envision the steps involved in each Process; Search for areas of your business where processes are not well documented or not running efficiently and set the goals and targets that you want to achieve through optimising these processes and for example, reducing costs, increasing efficiency, or improving customer satisfaction.
2 – Design and Align:
Once you clearly understand your processes and areas for improvement, you can start to design ways to simplify them. For example, technology can automate and streamline specific tasks (such as invoicing, Dispatch, and customer relationship management), eliminate unnecessary steps, save time, reduce errors and standardise processes across the organisation.
As you optimise your processes, it's crucial to ensure alignment with your business strategy. That will ensure that you are working towards your long-term goals and that your operations are scalable.
3 – Implement changes:
Now that you have analysed and designed a solution, you can implement the necessary changes to optimise the business processes. That may involve implementing and integrating new technologies, revising policies and procedures, training employees and empowering them to show initiative and provide feedback on what is working and not working.
4 – Monitor:
Monitor and evaluate the changes' results to ensure that the business processes align with intended strategic goals. That may include collecting data and conducting regular reviews to assess the effectiveness of the changes and identify any additional areas for improvement.
5 – Continuously review and improve:
Optimising is not a one-off exercise, so it is essential to continuously monitor and evaluate your processes and track progress towards your strategic goals. If you identify any issues or areas for improvement, make the necessary adjustments to keep your business running smoothly.
Overall, optimising business processes to deliver your strategy involves clearly defining and understanding your goals, identifying your core processes, addressing bottlenecks and inefficiencies by automating and streamlining, training and empowering employees, and continuously reviewing and improving. Optimising your processes ensures you work efficiently and effectively towards your short- and long-term business goals.
Enjoy reading about Strategy, Culture, Digital Transformation and making Content?

Here are some articles that you might like:
It all starts with strategy – By Rania Awad
4 Common Strategy Mistakes – By Byron Kelly
Effective Change Management For Digital Transformation – By Adrienne Tilley Le-fevre
Is Culture the Missing Piece of Your Digital Transformation Strategy?Is Culture The Missing piece Of Your Digital Transformation Strategy? – By Eugenie Rutherford
Transform Your Meetings in 5 Minutes – By Eugenie Rutherford
Building and communicating an inclusive strategy – By Megan Champion
What's in a vision? – By Matty Lawrence
How to brief content that meets your strategy goals? – By Kerstin Norburn
How to create content that counts – By Michelle Lollo
Benefits if GatsbyJs for headless websites – By Jason Robertson